Bible Memorization Tools and Ideas
"Thy word have I hid in mine heart, that I might not sin against thee." Psalm 119:11
One of the best ways to memorize the Bible is to start young.
As a child, my family repeated the 10 commandments every Friday evening for worship. I never remember learning them, it seems as if they were always known. Cards with pictures for each commandment can facilitate this.
My children sometimes also held a "stone" set of the commandments, or we used felts and a felt board for each commandment.
(See below for more ways to make learning Bible Verses interesting and fun.)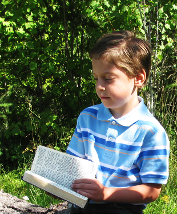 Using Mnemonics or Hints
Mnemonics
(the initial "m" is silent) are clues of any kind that help us remember something, usually by helping us associate the information we want to remember with a visual image, a sentence, or a word.
Try the first letter hints for any Bible verse below.