These articles we have written about the sanctuary were originally published in the "Morning Star Herald" run by Light in Darkness Ministry. These newsletters are available in PDF on the "Morning Star Training Center" page. We have chosen to make them available here for easier reading online.
A Linen Message
Originally published January 2015
Jim was a good boy when he was little, but as he grew up he got into bad company. He lied; he stole, and got into all kinds of trouble. Again and again his parents pleaded with him to change his life around and turn toward the right.
But the more they pleaded, the worse things got until finally, in a fit of anger, he yelled "I've had enough! I'll never darken your door or come into your house as long as I live!" With that, he packed his suitcase and ran off. But life in the world wasn't as fun as he thought it would be. It wasn't easy for a dishonest boy to keep a job, and it wasn't very long until he was down and out.
The still, small voice in his head said, "Go back home, tell them you're sorry."
"I'm too ashamed to go back", he argued, "Mother and Father could never forgive me, I've lied, I've stolen and dishonored them."
"Go back, Go back," said the little voice.
After a great
struggle, he finally
came up with a plan. He
wrote a letter to his parents.
"Dear Father and Mother, I've
been a terrible disgrace to you. I've lied and stolen and spoken so rudely to you that I am afraid you can never forgive me. I would like to come back home and say that I am sorry, but I am afraid that I have sinned against you so much that you would never let me in the house again. I'll be on the train, on the first day of next month; if you can forgive me, put a white blanket on the clothesline, and as the train goes by I'll see it and know I can come home and tell you how sorry I am."
He mailed the letter, and on the first day of the next month, he took the train that went past his home. As he came closer, his heart beat faster and faster with nervous anticipation. At last the train rounded the last bend. And there on the clothesline were hanging not one, but seven white blankets.
We are all wayward children who have sinned against our heavenly Father and yet, if we will say we are sorry and ask forgiveness, He has a reconciliation and atonement plan already laid out. It too, is surrounded with white linen. The wilderness sanctuary was erected to teach us the path back to God. It is all about God wanting to be with us. For God directed, "And let them make me a sanctuary; that I may dwell among them." Exodus 25:8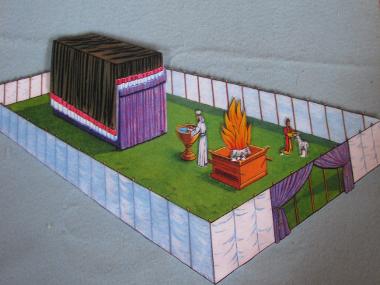 The wilderness sanctuary was surrounded by a wall made of "fine" or white linen that was hung on brass pillars. (Ex. 27:9-18).
This wall of white linen represents Christ's robe of righteousness that He gives as a free gift to each faithful person that comes to Him in faith and repents of his sins. When we do this, God takes away our "filthy rags" of "self-righteousness" and clothes us with Christ's beautiful and clean robe of righteousness.
The wilderness sanctuary was surrounded by a wall made of "fine" or white linen that was hung on brass pillars. (Ex. 27:9-18).
This wall of white linen represents Christ's robe of righteousness that He gives as a free gift to each faithful person that comes to Him in faith and repents of his sins. When we do this, God takes away our "filthy rags" of "self-righteousness" and clothes us with Christ's beautiful and clean robe of righteousness.
1 John 1:9 says, "If we confess our sins, he is faithful and just to forgive us our sins, and to cleanse us from all unrighteousness."
The Bible says He take away our filthy rags of self-righteousness and give us His spotless robe of righteousness.
Zec. 3:4 "And he answered and spake unto those that stood before him, saying, Take away the filthy garments from him. And unto him he said, Behold, I have caused thine iniquity to pass from thee, and I will clothe thee with change of raiment."
Isaiah 61:10 "I will greatly rejoice in the LORD, my soul shall be joyful in my God; for he hath clothed me with the garments of salvation, he hath covered me with the robe of righteousness…"
This is what God's true church will be wearing.
Rev. 19:8 "And to her was granted that she should be arrayed in fine linen, clean and white: for the fine linen is the righteousness of saints."
This is made possible not because of their own inherent goodness, but because they "have washed their robes, and made them white in the blood of the Lamb." Rev. 7:14
This coming to Christ and confessing our sins, is the first step in the "sanctuary path" back to the throne of God.
"All who have a sense of their deep soul poverty, who feel that they have nothing good in themselves, may find righteousness and strength by looking unto Jesus. . . . He bids you exchange your poverty for the riches of His grace. We are not worthy of God's love, but Christ, our surety, is worthy, and is abundantly able to save all who shall come unto Him. Whatever may have been your past experience, however discouraging your present circumstances, if you will come to Jesus just as you are, weak, helpless, and despairing, our compassionate Saviour will meet you a great way off, and will throw about you His arms of love and His robe of righteousness." Amazing Grace p.9
With an invitation like this our immediate response should be to, "Enter into his gates with thanksgiving, and into his courts with praise." Psalm 100:4
Which Way?
Originally published July 2015
Several years ago, we had taken a family vacation to Montana. On this particular day, we had taken a side trip off of the main road up into the mountains to look for rock crystals. As the day began to disappear we decided we had better leave and drive back out to a main road before dark so we wouldn't get lost at night. As we were leaving, a sudden snow storm blew in and we were totally unprepared for snow. To make matters worse it finally got dark and our headlights were poor and seemed unable to penetrate through the heavy downfall of snow. As we drove, the road turned into a dirt road and there appeared to be road construction and we could not tell where the edges of the dirt road dropped off of the mountain. We hadn't seen any other vehicles and were totally lost. Fearing we would either drive into a road construction pit or get stuck in a snow bank and freeze to death out in the middle of nowhere, we pulled off on the side of the road to look at a map, but that too was no help, since it didn't even show the road we were on. In the snowy darkness, we began to pray for God to help us safely reach the interstate highway again. Just then a large pickup truck pulled up beside us, illuminating the road with his bright headlights. A friendly man with a big bushy beard asked if we were lost and offered to lead us to the interstate. He said we could "just follow his lights."
In what seemed like no time at all, he led us to an interstate overpass that was all lit up with street lights and told us
which way to get on to go South, (as if he knew which way we were going.)
We thanked him, and as we pulled onto the interstate we watched to see if he had made the special trip just for us or if he would turn around and go back the way we came. We saw his taillights disappear under the overpass but they never came out on the other side. Had it been our guardian angel? A year later as we drove through the same area again, this time on the interstate, we looked for the exit/overpass with all the lights. It isn't there. There were only cow pastures. We feel sure that God had sent an angel to not only provide an on-ramp to the interstate, but to also show us the way.
Some of us may never get to see our guardian angel here on earth, but God has a way marked out for all of us. We may find safety by following the pathway laid out for us in the wilderness sanctuary model. It shows the pathway out of this dark world of sin and details the waymarks to eternal life.
Psalm 77:13 says, Thy way, O God, is in the sanctuary: who is so great a God as our God?
We, too, may find our way to the throne of God, if we will follow the light of truth in God's word. As we study the sanctuary model, we find that in order for a person to enter into the courtyard of the wilderness sanctuary, they had to walk through the door or gate. The doorway into the courtyard was on the east side. (Exodus 27:13-16)
This door is extremely important for us to understand, because Jesus Christ tells us that He himself is represented by a door. He said, "I am the door: by me if any man enter in, he shall be saved, and shall go in and out, and find pasture." John 10:9
This door or gate was the only entrance into the courtyard and therefore, the ONLY WAY for a person to get to the Tabernacle. Jesus saith unto him, I am the way, the truth, and the life: no man cometh unto the Father, but by me. John 14:6
Just as the sanctuary had only one gate or door, Jesus is the only way to salvation.
"Neither is there salvation in any other: for there is none other name under heaven given among men, whereby we must be saved." Acts 4:12
All other methods of trying to receive salvation are worthless. Jesus said "Verily, verily, I say unto you, He that entereth not by the door into the sheepfold, but climbeth up some other way, the same is a thief and a robber." John 10:1
(Devil charms, penance, image worship, relics, self-scourgings, -- even our own good works alone, are useless.) Our only hope of salvation is Jesus.
This door was made of linen hangings that were blue, purple, and scarlet in color and matched the colors of the veil in the tabernacle itself.
Exodus 27:16 And for the gate of the court shall be an hanging of twenty
cubits, of blue, and purple, and scarlet, and fine twined linen, wrought with needlework: and their pillars shall be four, and their sockets four.
These 4 brass pillars and this colorful linen hanging are a representation of the Life, Death, Resurrection and Ascension of Jesus Christ as presented in the gospel accounts of Matthew, Mark, Luke, and John.*
So for a person to start walking this sanctuary "path to the Throne of God" ("to come to God" and be saved) – the very first thing that they have to do is to leave the "outer darkness" of the world and enter the Sanctuary. The very first step in this process is for them to walk "through" this doorway that represents Christ – in other words, they must come to a knowledge of Jesus Christ – they need to be introduced to the Saviour!
For if after they have escaped the pollutions of the world through the knowledge of the Lord and Saviour Jesus Christ, they are again entangled therein, and overcome, the latter end is worse with them than the beginning. 2 Peter 2:20
As we walk the sanctuary path (from East to West), we must make a conscious decision to turn our back on the pagan worship practices and sun worship of the east and choose instead to worship Jesus the Son of God.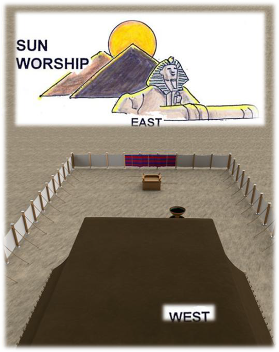 There are only two ways that can be traveled – the Broadway or the Narrow Way.
Jesus said, Enter ye in at the strait gate: for wide is the gate, and broad is the way, that leadeth to destruction, and many there be which go in thereat: because strait is the gate, and narrow is the way, which leadeth unto life, and few there be that find it. Matthew 7:13, 14.
And now the question for each one to settle is, Will you leave the dark abodes of sin and woe and through Jesus enter into the path of life? Will you choose today to worship God and Enter into his gates with thanksgiving, and into his courts with praise..:? Psalm 100:4
Will you choose to turn your back on the things of this world and turn your eyes upon Jesus? Won't you follow the way to safety?
*There were 4 brass pillars that actually made up the door or gateway opening itself. (Exodus 38:13-19)
In the Bible "brass" is used to represent humanity or human flesh (Jer. 6:28; Eze. 22:18; 24:11,12; Eze. 27:13). But brass that has been melted and purified doesn't contain impurities and can also be used to represent Jesus Christ (Rev. 1:15) who was "God manifest in the flesh" and without sin.
In the Bible, the number 4 can be used to represent Jesus Christ our Creator (examples: 4th Commandment, 4 Gospels, 4th Man in the furnace, 4th Angel, etc.)